There is a good article in 10-4 Magazine by Kim Grimm about NASTC (National Association of Small trucking Companies) and the positive benefits small trucking fleet operators get through membership. I attended their annual convention recently and was struck by how truly committed David Owen and his staff are to improving the operating success of their member fleets, and choosing vendors that are just as committed to this same cause.
NASTC is an association of several small trucking companies running 50,000+ power units and 60,000+ trailers. Their market is fleets with 100 trucks or less, with average fleet sizes of about 18-20 trucks. Most (but not all) of their members are full truckload long haul motor carriers operating in the US and Canada. NASTC is the largest combined purchaser of OTR diesel fuel in the country. Founded in 1989 by David Owen and Buster Anderson, these men saw the potential of bringing together many small owner operators and companies into a collective group to give them the clout that the big companies have out there. Today, they continue to expand the services the organization offers using qualified people to develop new products, tools and services for their members.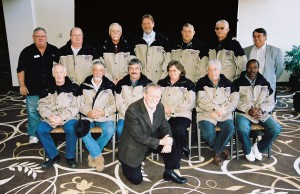 The organization has agreements with several vendors to allow access to the highest quality goods and services at fair prices to fulfill their mission statement: "NASTC is dedicated to helping small trucking companies control their costs through managed purchasing, analysis, consultation and advocacy. Our ultimate mission is to level the playing field and remain a significant force in the industry." To become a NASTC affiliate vendor, a company must pass some pretty stringent requirements first, in regards to quality products and competitive prices. In return, these affiliated vendors have the attention of approximately 50,000 truck drivers (the organization's members).
When you decide to join NASTC, it's a requirement that you first go to Hendersonville, TN and attend their "New Entrant Survival Training" course. I went in January to take the class and I was really impressed when David Owen introduced himself and actually told us that he does all this to make money, and to help all of us make and keep more of the money we work so hard for. His candor and honesty was refreshing! The first page in the New Entrant Survival Training Notebook is a sheet with 20 questions for new authority holders. These are some very important questions, and NASTC helps you get the answers you need to succeed.
I would recommend NASTC membership to any small fleet operator that is looking for a competitive advantage and an association that really delivers on its promises!
Kelly Frey CEO
BigRoad Inc