Another example today of how the trucking industry is quickly moving towards electronic log adoption, with Landstar System's announcement covered in OverDrive by Todd Dills. The good news is that it is getting easier and easier for drivers and small fleets to adopt eLogs. BigRoad has seen 34,000+ downloads of it's free eLog (Electronic Logs) app on Android since launching only 6 months ago.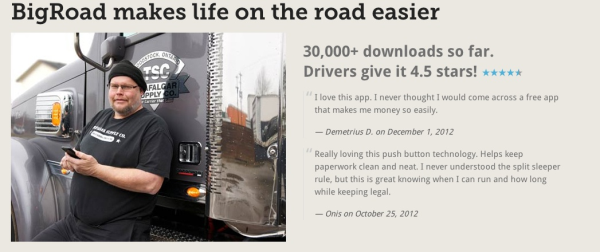 Known widely as the nation's largest all-owner-operator fleet, Landstar System has since August installed in the neighborhood of 1,000 electronic onboard recorders (EOBRs) on trucks operating leased to one or another of its fleets. The installations are the result of a new policy company Vice President and Chief Safety and Operations Officer Joe Beacom described as stemming in part from Landstar Inway (with Landstar Ranger, one of the company's primary truckload fleets) moving above the intervention threshold in the Hours of Service Compliance BASIC (Behavioral Analysis and Safety Improvement Category) under CSA.
All new leases signed at Ranger and Inway now come with the requirement for the business capacity owner (or BCO, Landstar's internal nomenclature for its leased owner-operators) to keep their hours of service electronically using one of three Qualcomm EOBRs with other communications/reporting tools embedded. The program also applies to current BCOs, but adoption of EOBR technology remains voluntary in large part. "Anybody who's already here can voluntarily get one" of the units, said Beacom, "and [Landstar] will pay for the purchase of the unit."
The BCO is responsible for airtime costs at rates of $27.25 per month for the Qualcomm MCP50 and MCP110 units and $36.25 per month for the MCP200, company officials said.
Such applies only with voluntary adoption, however, and will be an option for contractors as long as "they don't have any [hours] violations or roadside issues," said Beacom. "As they get violations, they'll have to get one — and pay for it."
The policy — not applicable to contractors with expedited fleet Landstar Express America, though BCOs there can purchase EOBR-capable units through the Landstar Contractors' Advantage Purchase Plan for volume discounts — has been in effect since August, Beacom added, when Landstar Inway crossed the then-Fatigued Driving BASIC's intervention threshold for hazmat carriers, 60. (Today, the Inway fleet remains slightly above the threshold, at 61.60, the only score in any of the BASICs above threshold level among all of Landstar's fleets.)
Before that happened, "we had talked an awful lot," said Beacom, about how to introduce EOBRs, given the large fleet's peer group's wide adoption of the devices, which virtually eliminate the minor so-called "form and manner" violations that are the most common hours violations. "Our peers are the large companies that have them on every [truck]. I'd say we're fortunate to be in the low 60s that way. Our guys historically have not had a lot of log violations, but when somebody has next to zero because it's all automated, it's hard to compete with that. We like the progress we're making."
Beacom said customers have asked "what we're doing" to combat Inway's hours BASIC ranking, "and they like our answer. We show them our Crash Indicator BASIC measure, which is not public — it's 9 or so, the top ten percent best in accident frequency in the peer group.
The company continues to have a very low turnover rate, Beacom added — "Our turnover rate is going to end up this year at 25 percent" — and the policy has had no effect on contractor profitability with the carrier. "Things haven't changed," Beacom said. "It's not moving the needle on profitability. It's just a way to automate and use technology to do something you were doing already."