If you're like me and like to have technology at your fingertips, without the sometimes confusing rhetoric, then keep reading. Driver logs (Hours of Service Logs), administered by the Federal Agency FMCSA – (Federal Motor Carrier Safety Administration) are required for every commercial truck driver in the USA that goes beyond 100 air miles of their home base. However, today, approximately 98% of drivers complete their driver logs with paper, which for many is quite daunting to complete, since they take more time. It is especially more difficult and time-consuming for new drivers, requiring complex hours calculations and multiple entry fields that are prone to error. In fact, industry experts indicate that over 70% of roadside inspection fines are related to 'form and manner' errors. The average roadside fine for a driver can range from $500-$2,000, along with being put Out of Service, and unable to drive. Ouch!
However, with the proliferation of smart phones available to drivers today, it is becoming much easier to remove the burden of paper logs and replace them with electronic logs. New technology entrants to the market such as BigRoad offer easy to use electronic driver logs that are compliant to the FMCSA regulations. For those who are concerned with cost, no need to worry: they are also FREE for drivers to download from Google Play Store onto any Android device. Even drivers that are skeptical about technology are recognizing that they can easily adopt electronic logs, helping them run safer and more compliant, while removing hassles and headaches of paper logs.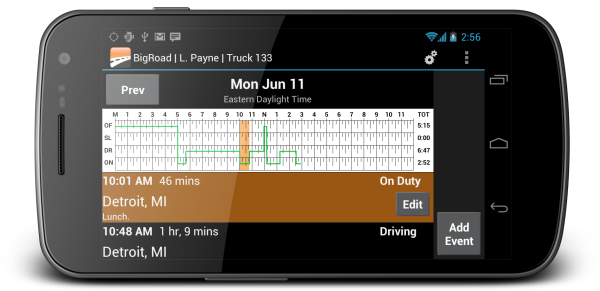 There may be questions or concerns when transitioning to electronic driver logs. For example, "Is Truck Specific Navigation available," to which the answer is yes, the app has the ability to work with several navigation applications, such as SmarttruckRoute, which can be downloaded from Google Play. Changing time zones is as easy as clicking on the 'Settings' icon, tapping 'My profile', and choosing your time zone from the drop-down box. You can also use tablets, which are larger, making for easier map and navigation display, and using Skype makes for easier traditional voice capabilities.
Compliance can be easy!

Fleet Web Application
For the fleet operator it is an absolute advantage if their drivers embrace electronic logs – because they can get real time visibility to the current status of every driver and an accurate picture of their log status. They are also improving their safety and compliance, while reducing their liability costs and exposure to out of service violations. Other services for fleet operators include:
In addition to cutting communication costs, such as voice calls, errors and misinformation, there is real time messaging to drivers, so nothing is misconstrued

Easily manage documents

Eliminate FAX costs

Real Time POD

Pay Log

DVIR Documents

Reduce Miles

Collect detention pay
Driver Mobile Application
Free Driver Mobile App for smartphones is another option for electronic driver logs. In addition to using them anywhere, they also do the following:
Save time – send to dispatch and print – it's that easy
Eliminate errors
Clean, inspectable logs
Duty status alerts
USA and Cda FMSCA rule sets
Simple messaging with dispatch
No text costs
Send documents such as payroll, POD's, and damage photos, at any time
Using these services for electronic driver logs for truck drivers will make logging reports and time spent on the road much easier and faster, so truck drivers can get back to their business at hand.